Thursday, November 7th, 2013
Jacqui and I were talking last night and the topic turned into the subject of wasting energy.
I was thinking about this and remembered my box of stuff to sell.
In 1997 & 1998 and on I was a HUGE fan of advertising characters.. especially cereal advertising characters. I sent away for several offers for such characters. I had this vision of someday selling these collectors items for profit. I think the price was $7+ per toy or something.
These toys sat in a box in the garage, and then eventually I hauled them along with all of my old belongings to California. There they too sat for ages. Sure, there were several attempts to sell these items, but much like all the other bean bag toys, they are worthless. According to the most recent sold item list on ebay, they sold for 99 cents.. minus ebay fees, shipping costs etc.. TOTALLY NOT worth it.
I had this great idea to buy some travel bug tags and put them in geocaches. OF course, that'd be another $4.25 for each toy.. and plush wouldn't respond well to being left in plastic containers most likely.
I desire big, positive changes in my life. Jerry Savelle talks about planting a seed for big changes.. so I packed up my toys into 4 plastic grocery bags, and dropped them off at the Goodwill.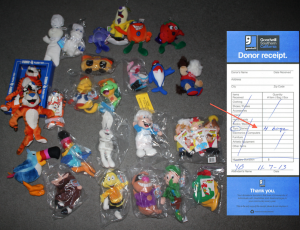 Even though I never played with these toys they were difficult for me to let go of them… why? I don't know. Maybe because I had them for so long.. or maybe because of my misdirected optimism that I would sell them (this was before ebay). Whatever the reason.. they are gone now.
I've let them go.